Web Design – Selecting a Domain Name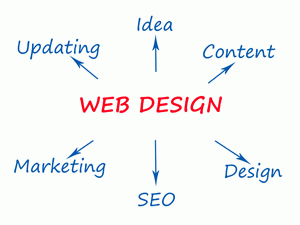 One of the very first steps in getting your new website up and running is selecting and purchasing your domain name.  I generally open a new browser window and start searching for domain names.  GoDaddy.com is one place you can use and they often have the lowest prices for domain purchase.  Just start putting in ideas that come to you and see what is available.  It will offer suggestions if the domain name you put in is already taken.
KISS – Keep it simple to remember and simple to type.  Try to avoid hyphens when possible.  People just have a hard time remembering where the hyphen goes.  A great domain name is easy to remember.
Keywords – Use your keywords when possible.  Have a service company?  Try and incorporate the name into the domain.
Geographics – Target your area.  Live in Cedar City?  Why not purchase a web domain name like CedarCityPlumbing.com.  This provides both the geographical area and keyword.
What Extension – If your looking for a business domain try to find a .com extension.  Think about your own search practices.  I'm guessing your more likely to type .com versus .net.  Use .org only when appropriate.
Get a few domain names together and send the list off to your friends and family.  Ask them for feedback.   You might be surprised on what information you get back on your sample domain names.
Finally select the domain name that's just perfect for your business.  Now what about purchasing all the different extensions available mydomainsample.com, mydomainsample.net, mydomainsample.org, mydomainsample,info, etc.,.?  This is really a personal decision.  It takes money to purchase all the different options available.  And in many cases there are so many variances it becomes quite expensive.  Personally I go with the domain of my choice.  It's easy.  It's affordable.  And it's just what I need.
Have fun.  Remember selecting your domain name is a key part of your overall web design.